6 DAYS TOUR FROM MARRAKECH TO SAHARA

&

 CHEFCHAOUEN
✪ Tour features :
On this epic 6 days tour from Marrakech , you will travel through the stunning High Atlas Mountains and be inspired by the grandeur and breathtaking landscapes, as you journey to the UNESCO listed Ksar Ait Benhaddou and a visit to the remarkable "Hollywood of Africa", the quaint city of Ouarzazate.
You will encounter Morocco's beautiful valleys e.g. Dades valley and Rose valley. There are amazing gorges such as the Todgha gorge, carved by powerful rivers. You will witness towering cliffs, ageless oases, notably the UNESCO protected Oasis of Skoura, the historic Kasbah of Amridil and many ancient historic Kasbahs.
On this 6 days tour from Marrakech , you will visit the Sahara Desert where you will undertake exhilarating activities in the Sahara environs, Camel trek in the golden dunes, and experience a superb night under the stars in an awesome Berber desert camp. Ride Quad bikes and Sandboard in the magical Sahara dunes. Visit Berber desert nomads and enjoy a welcoming cup of mint tea.
Witness the production of the famous Argan Oil and journey through the impressive Rif Mountains to the Blue pearl city of Chefchaouen to wander the alleyways and examine the exquisite souks.Take a journey back in time with an exceptional visit to Morocco's spiritual city of Fes. Visit Casablanca and discover the uniquely modern Hassan II Mosque and the movie famous 'Rick's café'. Finally, return to the legendary, bustling sensational city of Marrakech.
TOUR ITINERARY
" Please Click on each section bellow so that the details of each day will appear ".
✪ Day 1 : Marrakech » High Atlas » Ksar Ait Benhaddou » Ouarzazate » Rose valley » Dades valley :
After your breakfast, your Grand Morocco Guide / Driver will pick you up from your Hotel or Riad in Marrakech, then travel through the dramatic landscape of the High Atlas Mountains, passing through the mountainous Berber villages and over the 2,260 M altitude, Tizi n Tichka Pass. In the High Atlas Mountains, there is a women's cooperative for making the world famous Argan Oil, a stop there, so you can see the process of how the oil is made. This will enrich your minds more about this wonderfully treasured Argan Tree, which has many benefits and which grows only in Morocco. The Argan tree is registered as Bio-patrimony Heritage by UNESCO.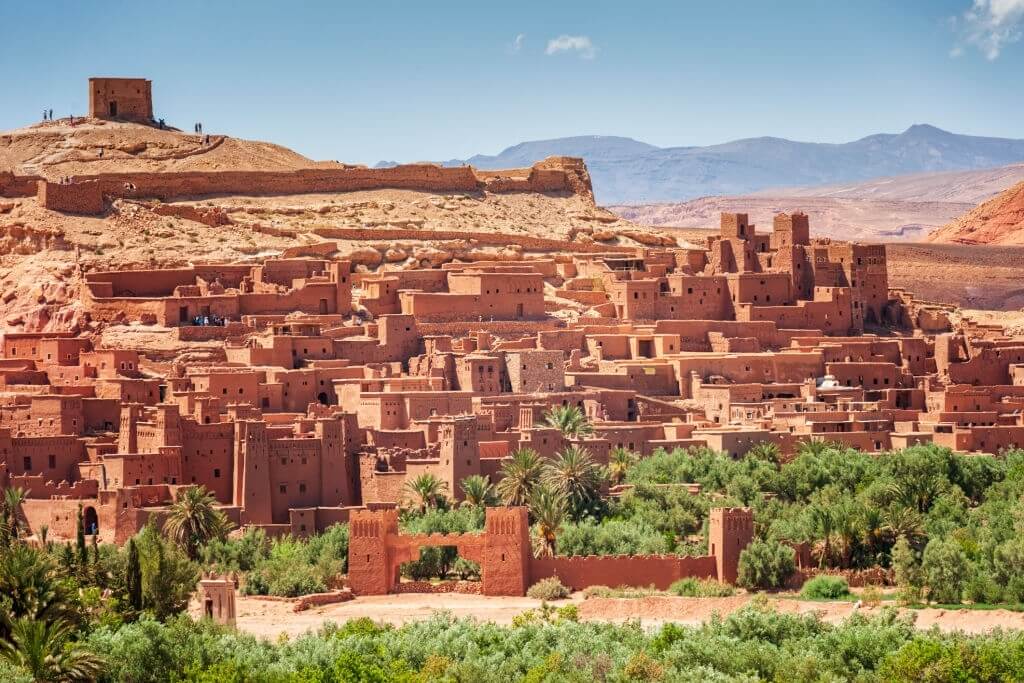 Driving down from the High Atlas Mountains, about 20km before Ouarzazate city, we will stop for a walking visit to explore the famous UNESCO World Heritage listed site of the "Ksar Ait Benhaddou", listed in 1987. This Ksar or village is one of the most intriguing of the Red Earth Castles lining the ancient road of the camel caravans and it is the oldest mud village in Morocco. It was once a commercial hub for trans Saharan caravan traders. The Ksar has been the back-drop for many international movies, such as Gladiator, Game of Thrones, Prince of Persia, Indiana Jones, Kingdom of Heaven and many more.
Then we drive to Ouarzazate city, the gateway to the Sahara Desert and is known as the "Hollywood of Africa". It was a former caravan town on the silk and salt route in the eastern foothills of the High Atlas Mountains. There may be an opportunity for photo stops and for visiting one of the many cinema studios, as we visit this city.  After lunch, we continue through the "Road of the thousand Kasbahs" and earth castles to the 'Oasis of Skoura'. The Oasis of Skoura is UNESCO protected, and is famous for its numerous Kasbahs and here we will stop to visit the iconic 17th century 'Kasbah of Amridil', located in the Oasis and appears on the 50 dirhams note.
Amridil Kasbah was founded over 300 years ago and is largely unchanged today. It is one of the living museums of Morocco and is the ancestral home of the Nasiri family. The present generation of the family live on site, have a museum of ancient Moroccan artifacts as part of the Kasbah. In ancient times camel caravans of gold, spice, slaves, salt and other cargo off-loaded in Skoura, after many weeks trekking across the desert from several sub Saharan countries e.g. Mali, Senegal, Ghana and Asia. Today, Skoura's historic mud brick castles remain and traders still arrive with desert products, especially trading salt. After visiting the Amridil Kasbah and along the road of 1,000 Kasbahs, we will pass through Kelaat Mgouna, known as 'The Rose Capital' for the famous Damaskina Roses, also known for the annual festival during the rose harvest in May each year, when Miss Rose of Morocco is chosen.
Continuing our journey towards one of the most beautiful valleys in the Kingdom and enjoy colourful Berber mud villages overlooking the amazing Dades Valley. We drive along the spectacular Dades Valley to discover the amazing rock formations, known as "monkey toes" or sometimes "monkey fingers". These extraordinary rock formations are metamorphic rock, which has been severely eroded by rain, water (which gives a chemical breakdown of the rock), wind and possibly sand storms over thousands of years.
The Dades Valley prides itself for the extensive production of roses, wall nuts, groves of palm and almond trees. It was the site of ancient nomad crossroads and the valley is dotted with Oases and mud brick palaces known as Kasbahs which gives the region its fairy tale nickname. (Overnight in the Dades Valley).
* 6 days tour from Marrakech .
✪ Day 2 : Dades valley » Todgha gorges » Merzouga Sahara & a night in a desert camp :
After breakfast in your hotel, we leave the spectacular Dades Valley, and move on towards Tinghir, where we will deviate to a minor road following the river of Todgha Gorge. Contemplate the scenic panoramic views of the old Jewish and Berber mud villages, overlooking the valley.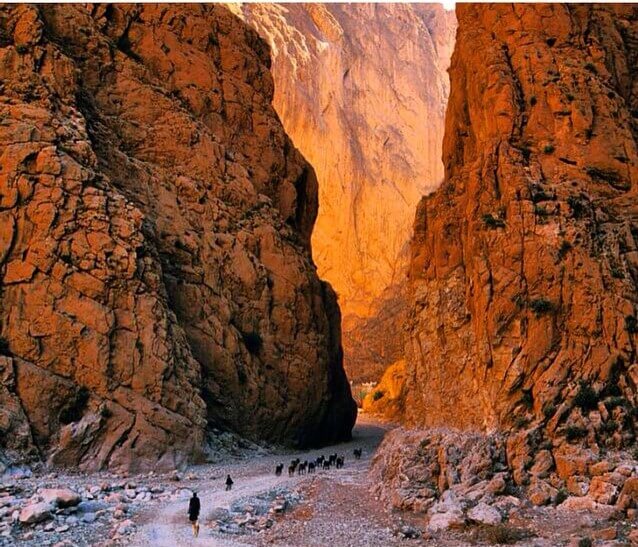 Some time at leisure, to enjoy the immensity of the huge red cliffs of 400 M, where many international rock climbers come to enjoy their preferred sport.
The Todgha Gorge is recognized worldwide for being one of the most spectacular rocky canyons. No wonder this place has been used for the filming of many movies as a magnificent natural setting, with one of the most famous movies being the "Mummy". In this area of Todgha Gorge, lives a large community of Berber nomads. Here you may see Berber nomad women who have their faces tattooed. They may be seen herding their goats to drink water at the river's edge and collecting their own water which is carried by their mules back to the caves where they live.
After lunch, you will continue the trip to Erfoud, known as the capital for dates(fruit) and a global entity for fossil stones, famous for amazing fossil beds and Paleozoic Strata, where ancient 'Trilobite' fossils are found, 505 to 578 million years old. An intriguing visit to a fossil museum is possible where you will witness some of the ancient specimens (Ask your guide). 
After, we continue to the eminent Sahara Desert town of Merzouga, which is a small Moroccan Berber town in the Edge of Sahara Desert. Merzouga is regarded as the gate way to the Grand African Sahara, which is a huge expanse of sand dunes.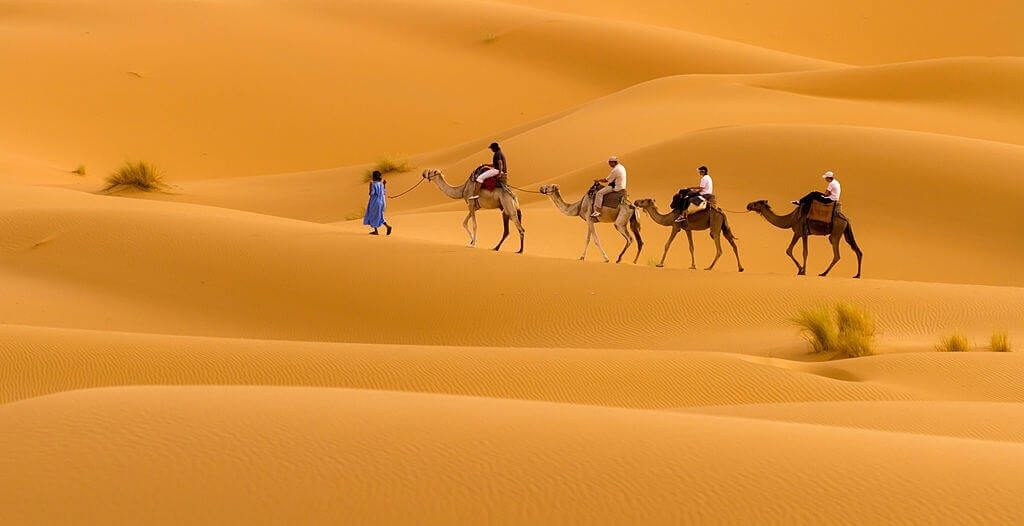 On approach you will observe a magnificent panoramic view of the golden dunes considered the highest sand dunes in north Africa at 350 M elevation. Then we continue to  the camel station to meet your camel and the experienced camel man who will guide your camel trek to explore the mysterious Merzouga sand sea .
You will enjoy the most charming sunset in the Merzouga Dunes. You will spend the night in a Berber desert camp, in the heart of the dunes. The camp consists of several comfortable Berber tents equipped with mattresses and linen, a dining room, a kitchen and a bathroom. The evening will include dinner, followed by entertainment around the campfire, listening to traditional Berber drum music, gazing at the night sky full of the milky way stars and having the experience of a life time, which will captivate your heart and soul, not for a night, but forever. (Overnight in Sahara desert camp).
* 6 days tour from Marrakech .
✪ Day 3 : Merzouga Sahara day of sightseeing and activities :
Before sunrise, on waking, you may climb the sand dunes for a fantastic view of the amazing sunrise in the Sahara Desert, followed by a typical traditional Berber breakfast.
After breakfast, you will take the camel ride back through the shimmering dunes to the main road where you will meet your guide and vehicle to return to back to Merzouga for a full day sightseeing around the environs.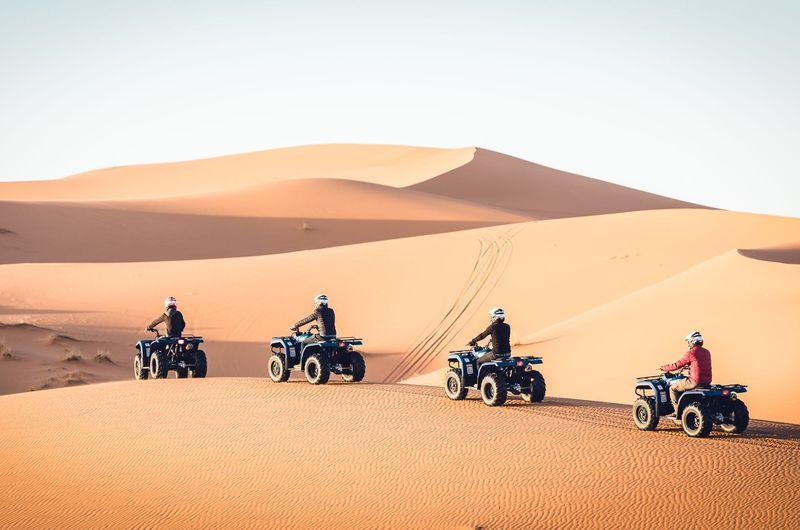 ★Begin your day with a 1 hour Quad excursion through the Sahara Desert. Enjoy the exhilaration of speeding through the sands and up the dunes, where you will stop to enjoy a peaceful moment with just sky and sand for as far as you can see. You will have a professional guide to ensure your safety!
★Explore the Berber farms and fields of Merzouga and marvel at the ingenious underground water and irrigation system, for family agriculture and for spectacular date palms.
★Visit "Tifert N Igdad" Salt Lake or "Flamingos Lake". During Spring the lake attracts many species of birds e.g. amazing colony of Greater Flamingos, desert Warbler, Egyptian Nightjar, Falcons, desert Sparrows and many more. Several species reside at the lake all year round. Other wild life to be spotted at the lake are lizards, hedgehogs and desert foxes.
★Visit the Black Village of "Khamlia", a little village with a big story. This village has a population of 390 of Black African families and Berber ethnic groups and it is located at the foothills of Merzouga dunes, doors to the great Sahara Desert.
For centuries black Africans from the Gnawa tribe, originating from sub-Saharan countries such as The Sudan, Mali and Niger, were forcibly moved from their homelands across the Sahara to Morocco as part of the worldwide slave trade. Shackled in chains as they crossed the desert, they sang to soothe their pain and found a mindfulness in the rhythmic chanting and clanking of the chains.
Today Khamlia's inhabitants are direct descendants of these slaves. We will visit one of the music associations, have a cup of tea and listen to the Gnawa inspirational African music which is legendary from their ancestors, preserved from their original homeland and still played in a traditional manner.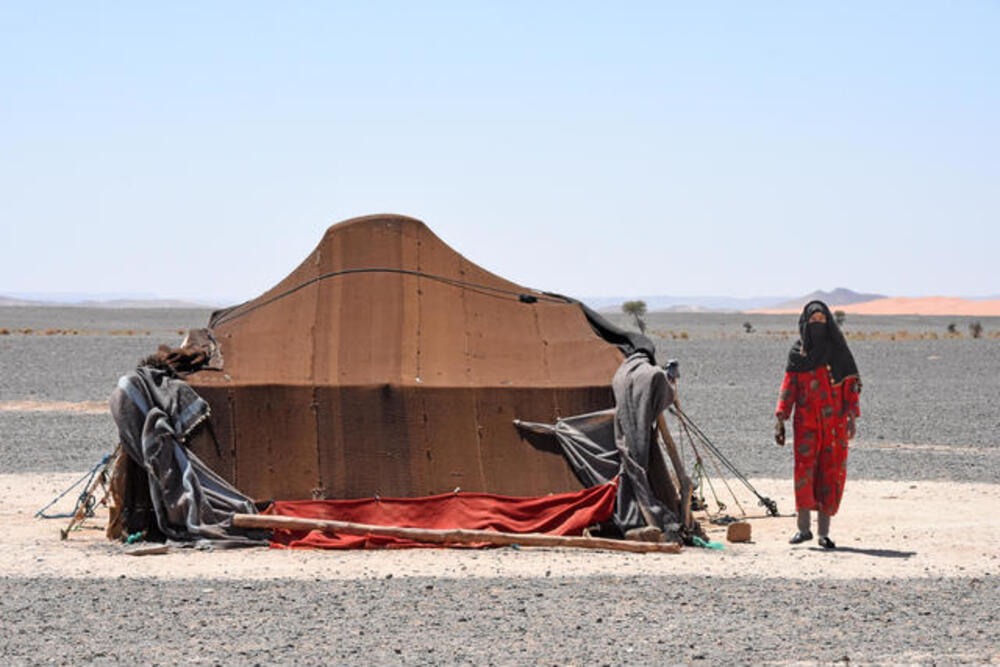 ★Partake of a delectable lunch of Berber Pizza which is a food specialty of the desert town of Merzouga.
★Visit a desert nomadic Berber family, share a cup of tea with them and be totally captivated by their life style, their traditional tents and the harsh desert environment in which they live.
Head to your Riad/Hotel in front of the sand sea for a rest or a swim at your leisure. (Overnight in your Hotel/Riad).
* 6 days tour from Marrakech .
✪ Day 4 : Merzouga sahara » Erfoud » Ziz valley » Middle Atlas mountains » Ifrane » Fes :
Leaving the Sahara Desert, we will drive through Erfoud and along the impressive Ziz Valley Oasis, the largest Oasis in Morocco, consisting of 18 species of date palms, totaling approximately 1 million palm trees.



Then on to Midelt, famous for apple growing and is situated between the Middle and the High Atlas Mountains. Lunch is a possibility here. We then travel to Ifrane and en route there will be a stop at the Cedar forests of Azrou, in the Middle Atlas region, altitude 1,278 M. Here, offers a photo opportunity to witness the sublime views of Cork and Cedar forests. You may be able to glimpse and feed the Barbary Macaque Apes  in their Cedar forest habitat and hopefully observe their antics. The Barbary macaque also known as Barbary ape or magot, is a species of macaque found in the Atlas Mountains of Morocco and Algeria along with a small population of uncertain origin in Gibraltar. These Cedar plantations in Azrou National Park, are the largest Cedar plantations in the world.
Then moving on to Ifrane, where we make a stop to explore this city which has a European image and atmosphere with sloping roofs, chimneys housing large stork nests, generous flower beds and Chestnut trees. Thus, the nickname "Little Switzerland of Morocco". The city was French built in the 1930's and houses the trendy University of Al Akhawayn. Ifrane is known for its mountainous terrain, altitudes to 1,664 M, and cold winter temperatures, -24 degrees C, measured in 1935, the lowest temperature in Africa. Skiing is a popular winter sport in Ifrane. It also claims the distinction of featuring in the top 10 of the world's cleanest cities, ahead of Ottawa, Helsinki and Singapore.
Then on to the amazing city of Fes which radiates a unique aura and which will take you back to the Middle Ages. This UNESCO heritage imperial city is the custodian of 13 centuries of Moroccan history. It is the cultural and spiritual capital of Morocco, thanks to many mosques, ancient religious schools, historic gardens, fortified walls, gates, palaces, squares and souks, left by the fingerprints of successive states and races from Berbers, Arabs, Andalusians and Jews. (Overnight in a Riad in Fes).
* 6 days tour from Marrakech .
✪ Day 5 : Fes » Rif mountains » Chefchaouen (blue city) :
After breakfast, we travel into the stunning Rif Mountains to Morocco's blue city of Chefchaouen and spend time exploring this charming blue washed town that has preserved the Berber, Arab-Andalusian traditions and arts for centuries. En route, we will pass through the attractive Dam Sidi Chahed and the Rif range, stopping to enjoy the landscape, the green countryside, cool air and capture photos of a life time.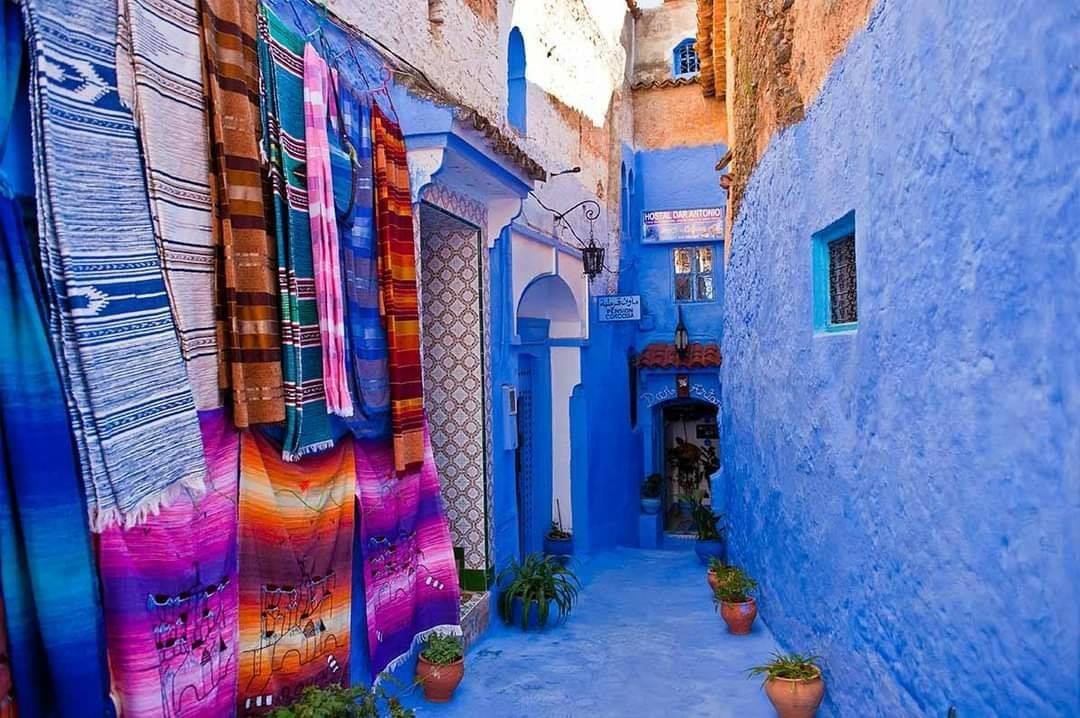 Known as "the blue pearl" and ranked sixth of the most beautiful cities of the world. Chefchaouen is an artsy, blue washed mountain village which was founded in the 15th century and was populated by Jewish and Muslim refugees fleeing from the Spanish Inquisition in 1478. The town buildings are painted blue and white, so the entire village appears to be wonderfully drenched in many hues of glorious blue leaving the traveler with a surreal impression. It was isolated until early 20th century but has preserved a Moorish way of life and is regarded as the prettiest town in Morocco. Chefchaouen presents glorious photo opportunities and walking here will make you feel as though moving through a dreamland. (Overnight in Chefchaouen).
* 6 days tour from Marrakech .
✪ Day 6 : Chefchaouen » Casablanca » Hassan 2 Grand mosque private guided tour » Marrakech :
Today, your Grand Morocco tour will continue towards the city of Casablanca, Morocco's economic centre and where you will stop to admire the most iconic landmark of the Kingdom, which is the 5th largest mosque in the world, the 'Hassan II Mosque'.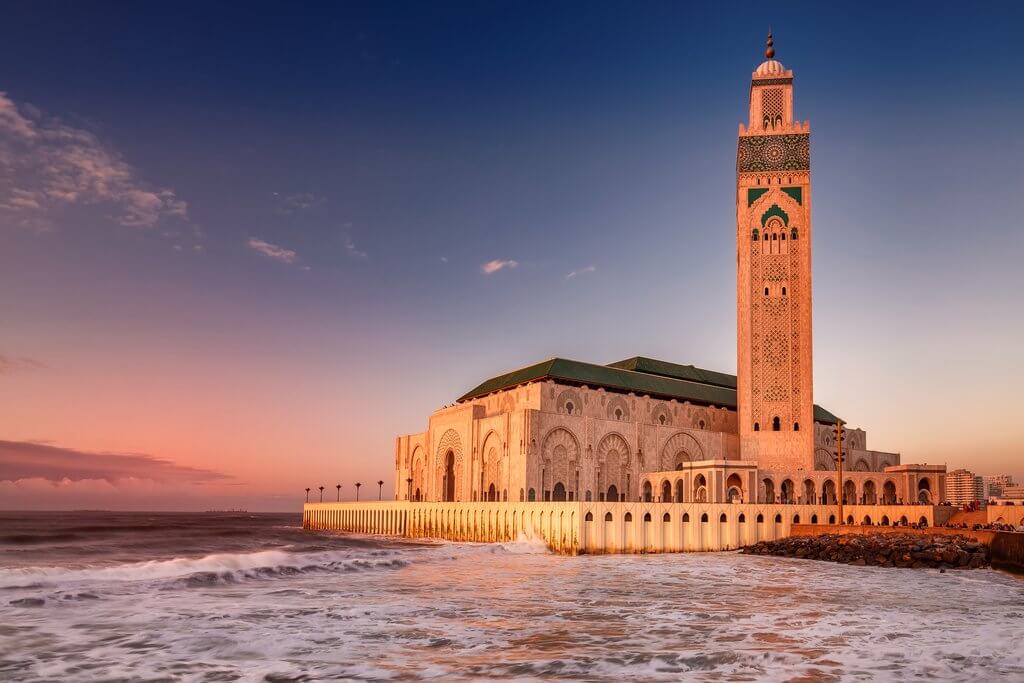 This mosque is the largest mosque in Africa and 5th largest in the world. Its minaret is the world's tallest minaret at 210 M. This coastal modern edifice, was designed by French architect Michel Pinseau and completed in 1993, and building the Mosque was estimated to have cost 585 million Euros. It straddles the land site and the Atlantic Ocean with a capacity of 105,000 worshipers, 25,000 inside & 80,000 in the outer courtyards. Historically, the venture was the 'brain-child' of King Hassan II, to honor the memory of his father, the deceased King Mohammed V in 1961.
The building started in 1986 and completed in 1993 and was the blending of designs, Islamic architecture, Moroccan elements and Moorish influences giving rise to an amazing beautifully decorated structure.
Its earthern ware floor, the decorated arches, engraved wooden doors and the green tiled roof, will fascinate your curiosity. Lunch in Casablanca, then we will journey on to Marrakech.
Your amazing journey through part of Morocco will end in Marrakech and you will be transported to your Riad / Hotel or Airport.
* 6 days tour from Marrakech .
WHAT IS INCLUDED :
Quad bikes and Sand boarding in Sahara.

Travel in an air-conditioned 4WD or Minivan, with a professional, licenced English speaking driver/guide.

Pick up / drop off from and to your Hotel / Riad in Marrakech. 

Entrance to all included sites and monuments.
Wi-Fi hotspot + 2 water bottles for each per day during your * 6 days tour from Marrakech .
6 days / 5 nights accommodation with Breakfast/Dinner while on tour( except dinners in Fes & Chefchaouen).
Turbant (head wear) for each for the Camel trip in Sahara.
Overnight stay in a Desert camp and Camel trek.
A visit to local nomad family in Sahara.
Private guided tour of Hassan 2 mosque in Casablanca.
All Attractions fees and Taxes.
WHAT IS NOT INCLUDED :
Travel insurance.

Flight ticket.

Meals not noted as included during your * 6 days tour from Marrakech .

Snacks, drinks and incidentals.

Hotel services, such as room service or laundry service.

Tips and gratuities.

Personal expenses.
This 6 days tour from Marrakech itinerary is customised by Grand Morocco LLC.  "If our set itineraries do not match what you are looking for, please contact us and we will tailor-make an itinerary to suite your requirements".

BOOK THIS TOUR
6 days Tour from Marrakech
* 6 Days Tour from Marrakech to Sahara
VISIT US :
100 Avenue des Far, Sofitel, Casablanca 20000, Morocco.
6 Days Tour from Marrakech 6 Days Tour from Marrakech 6 Days Tour from Marrakech 6 Days Tour from Marrakech 6 Days Tour from Marrakech 6 Days Tour from Marrakech