4 DAYS  TOUR FROM TANGIER TO FES VIA CHEFCHAOUEN
✪ Tour features :
This 4 Days tour from Tangier to Fes magic journey will take you over the picturesque Rif Mountains to the unique, blue pearl of Morocco, Chefchaouen, a town painted many glorious hues of blue and regarded as the prettiest town in Morocco.
You will experience the Imperial city of Meknes, where there are many ancient historic monuments of grandeur and of great interest. You will journey to the country's "capital of knowledge and culture", Fes also referred to as "The Mecca of the west" and "The Athens of Africa".
Fes, a vibrant ancient city pulsating with colour and culture. Be totally absorbed in the architecture and the amazing Medina, full of curious alleyways and bustling colourful souks. You will be blown away with a full-day guided tour of many intriguing ancient and historic landmarks and the Medina, which includes the world's oldest working university.
TOUR ITINERARY
" Please Click on each section bellow so that the details of each day will appear ".
✪ DAY 1 : Arrival in Tangier » Chefchaouen :
Arrive in Tangier airport/port and meet your Grand Morocco guide/driver. Travel into the Rif Mountains to the blue pearl city of Chefchaouen and spend the afternoon exploring this charming blue washed town with a private local guide.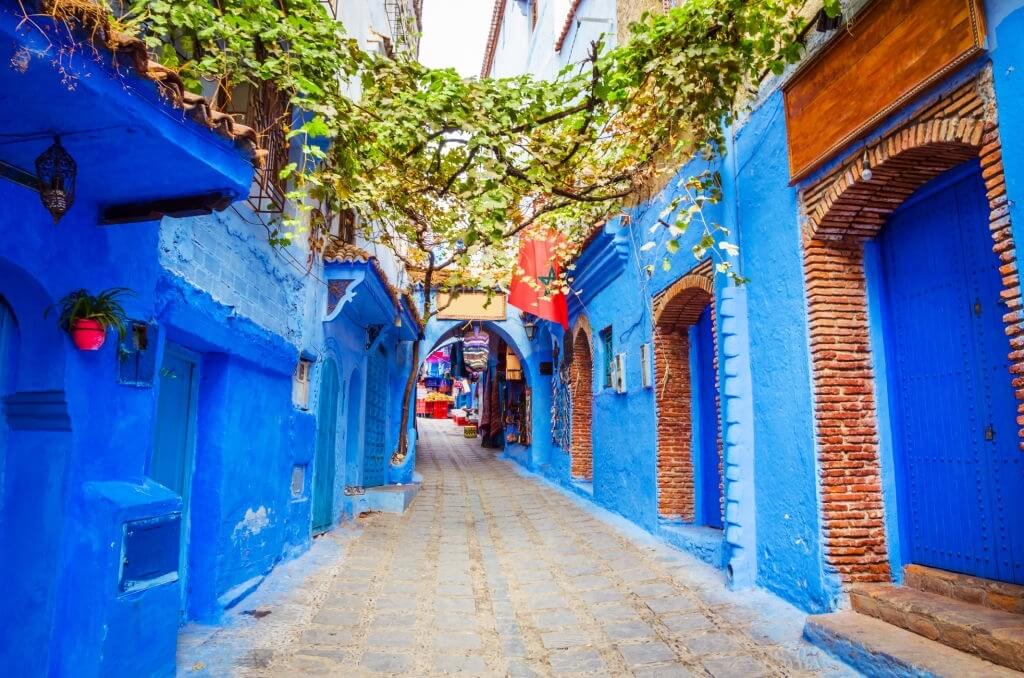 Known as "the blue pearl" and ranked sixth of the most beautiful cities of the world. Chefchaouen is an artsy, blue washed mountain village which was founded in the 15th century and was populated by Jewish and Muslim refugees fleeing from the Spanish Inquisition in 1478.
The town buildings are painted blue and white, so the entire village appears to be wonderfully drenched in many hues of glorious blue leaving the traveler with a surreal impression.
Chefchaouen was isolated until early 20th century but has preserved a Moorish way of life and is regarded as the prettiest town in Morocco. Chefchaouen presents glorious photo opportunities and walking here will make you feel as though moving through a dreamland.  (Overnight in Chefchaouen).
* 4 Days tour from Tangier .
✪ DAY 2 : Chefchaouen » Meknes » Fes :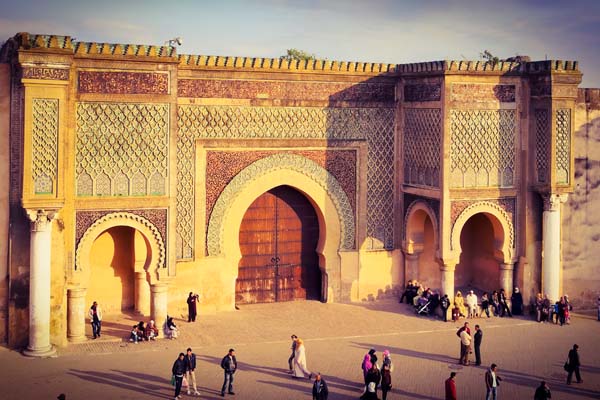 Depart Chefchaouen in the morning and head to the imperial city of Meknes.
Visit the 18th century Bab Mansour gate which is the most exquisite of its kind in North Africa and one of the 4 most beautiful gates in the world, Lahdim square, the Royal stables, the incredible Bassin Souani and more with a private local guide.
Our journey continues to the charming Fes. This city is a north eastern Imperial Moroccan city referred to as "The Mecca of the West & the Athens of Africa, also known for being the country's capital of knowledge and culture. Fes is renowned for its exciting and colorful "Fes El Bali" walled Medina, its medieval Marinid architecture, vibrant souks, and old world atmosphere and charm.  (Overnight in riad in Fes).
* 4 Days tour from Tangier to Fes .
✪ DAY 3 : Sightseeing guided tour of Fes :
After a restful night and a tasty Moroccan breakfast in your charming Riad, today you will begin a full day Heritage tour of Fes, with your expert Grand Morocco local guide. (Walking tour with some transportation between sites).

Bab bou jeloud

Begin with a visit to the 12th century "Bab Boujloud" or "blue gate" with its stunning blue and green ceramics.
Visit the largest royal palace in Morocco (Dar el-Makhzen) with its seven golden doors, learn about the significance of the intricate decor and marvel at it's wonderful golden gate made of marble, copper and glorious mosaics.
Stroll through the "Mellah" or Jewish quarter,  the old Moroccan Jewish Heritage quarter, built in 1438 and was built next to the royal residence to offer protection.
Take in the panoramic view of the city from "Borj Sud" , a former fortress and one of the lookouts on a hill where you can see the UNESCO listed ancient Medina of Fes.
Visit a pottery co-op to see how the unique pottery of Fes is made and view the intricate mosaics which adorn half of Morocco.
Head into the ancient Medina and step into a living museum. Fes medina is very much a local community which lives, works and goes about daily life, so be sure to keep moving and watch out for the donkeys!
Stop by the University of "Al-Qarawiyyin" which is the oldest existing, continually operating higher educational institution in the world, according to UNESCO and the Guinness World Records. It was founded by a woman, Fatima al-Fihri in 859 AD, with an associated Madrasa (Koranic school-institution for study of Islamic theology and religious law). It became one of the leading spiritual and educational centers of the historic Muslim world.
Visit the Madrasa Bou Inania (ancient religious school) which was founded in the 14th century and where you will be overcome by the wondrous Marinid architecture.
Visit handicraft workshops, where you will see why Fes is considered the handicraft capital of Morocco. This can include, among other things, the silk weavers, where beautifully colorful fabrics are woven from silk fibers of the cactus plant and the famous 11th century 

"Chouara"

 leather tannery

where all manner of animal hides are processed by hand, much as has been done for nearly 1000 years.

Explore the exciting narrow streets lined with local fresh fruit, vegetables, spice moulds and mysterious Souks.
During your tour of the medina, you will stop for lunch at a restaurant that would be very easy to walk right past but is truly a hidden gem. (​Lunch included).
In passing, admire Madrasa Al-Attarine (Koranic school), Nejjarine, Moulay Idriss Mausoleum (founder of Fes). Negotiate the narrow alley-ways, accessible only by foot or donkey and visit our chosen sites within Fes Medina.
Your Grand Morocco local guide will give you information regarding Moroccan history, culture and the Moroccan Berber way of life, especially around Fes. (Overnight in your Riad in Fes).
 * 4 Days tour from Tangier to Fes .
✪ DAY 4 : Airport transfer :
After breakfast, we will collect you from your Riad and transfer you to Fes international airport for your on-ward flight. Now ends your 4 Days tour from Tangier to Fes via Chefchaouen and Meknes.
WHAT IS INCLUDED :
Travel in an air-conditioned 4WD or Minivan, with a professional, licenced English speaking driver/guide.

Airport/ Port Pick up and drop off.

4 Days / 3 Nights accommodation with Breakfast while on tour.

Professional local guides in Chefchaouen, Meknes & Fes.

Lunch in Fes (Day 3).
WiFi hotspot + 2 bottles of water each per day druing your 4 Days tour from Tangier to Fes. 

All taxes and fees.
WHAT IS NOT INCLUDED :
Travel insurance.

Flight ticket.

Meals not noted as included in this 4 Days tour from Tangier to Fes itinerary.

Snacks, drinks and incidentals.

Hotel services, such as room service or laundry service.

Tips and gratuities.

Personal expenses.
PLEASE NOTE :
This *4 Days tour from Tangier to Fes itinerary is customised by Grand Morocco LLC.  "If our set itineraries do not match what you are looking for, please contact us and we will tailor-make an itinerary to suite your requirements".

* 4 Days tour from Tangier to Fes
VISIT US :
100 Avenue des Far, Sofitel, Casablanca 20000, Morocco.
4 Days tour from Tangier 4 Days tour from Tangier 4 Days tour from Tangier 4 Days tour from Tangier 4 Days tour from Tangier 4 Days tour from Tangier 
4 Days tour from Tangier 
4 Days tour from Tangier