10 DAY MOROCCO ITINERARY

DAKAR RALLY TRAILS ADVENTURE FROM MARRAKECH
Discover the hidden treasures of south Morocco, its rich culture and the fascinating Sahara desert landscape on this 10 Day Morocco itinerary.
TOUR FEATURES :
This exceptional 10 day Morocco itinerary is designed for those adventurous travelers, who wish to explore the rough, stony, parched and desolate region of the Sahara Desert, which reveals a myriad of colours and amazing landscapes.
Also for those who love to explore new, inspiring environments and unravel the mysteries of the Sahara Desert. We will drive off-road, following the famous "Dakar rally" trails where you will encounter and gain knowledge of the indigenous Berber nomads of the Sahara, and experience different features of the desert, leaving you with everlasting memories. You will spend a glorious night in an iconic Berber desert camp, under the "milky way" stars of the wondrous Sahara desert.
Then the ocean breeze of the Atlantic coast will follow, with a blending of the dry air of the Arganarian mountain area, where Argan trees are located, along with the Argan tree-climbing goats and the fresh Atlantic sea air. Observe the ancient Portuguese ramparts, the old fishing port of Skala and the historic UNESCO World Heritage listed wind city of Essaouira. Discover the most filmed location in Africa and the UNESCO site of Ksar ait Benhaddou.
This itinerary is specifically suited to those wishing to learn of the cultural diversity of Berber nomadic community life in the Sahara Desert and also for those for whom, driving is a pleasure, to be able to delve into Morocco's antiquity. Your trip will be more special with several unique activities e.g. sand boarding & overnight in a desert Sahara camp, a desert picnic, an astronomy night, camel trek and quad-bike riding in Sahara, horse ride on the Atlantic coastal sands and more surprises.
TOUR ITINERARY
" Please Click on each section bellow so that the details of each day will appear ".
✪ Day 1 : Arrival in Marrakech airport :
You will be met and welcomed at Marrakech Airport by our Grand Morocco team and transported to your Riad / Hotel.
Activities for day one will be determined by the arrival flight time. For morning arrivals, there will be a local, official guided tour of the city of Marrakech. For evening arrivals, an official guided tour of Marrakech will be available on the Day 9 of your 10 Day Morocco itinerary Dakar trails. (Please check day 9).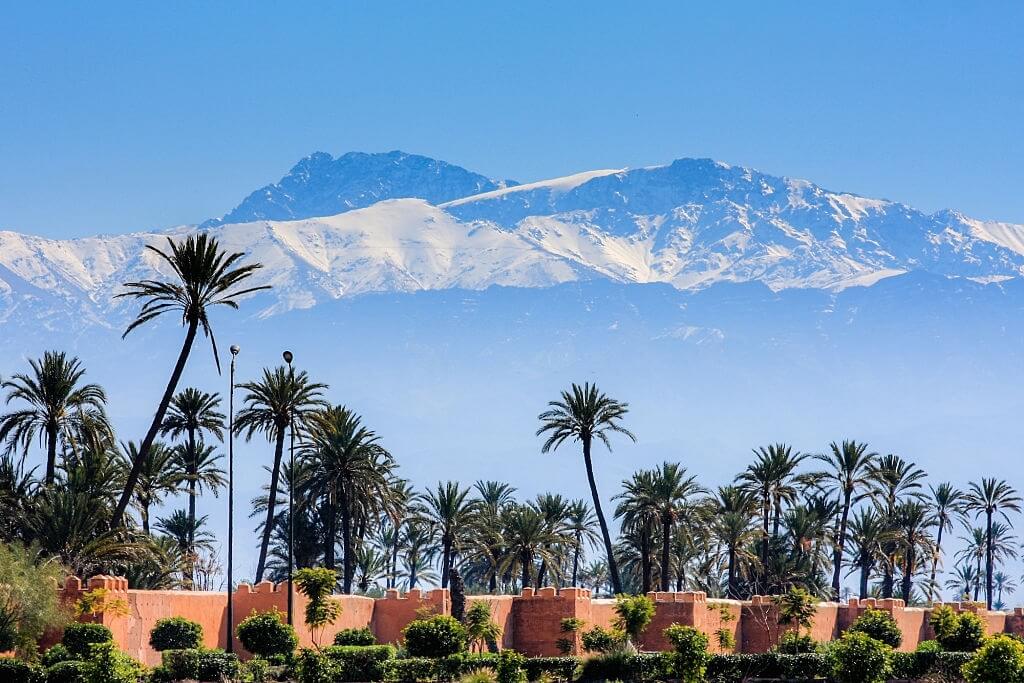 The wondrous city of Marrakech or the "red" Imperial city of Morocco, is a diverse, cosmopolitan and exciting city; a pulsating metropolis of vibrant coloured souks and throngs of busy Berber folk along a myriad of narrow corridors. Marrakech was originally called "Amur n Akuch", a Berber name meaning "Land of God". This enchanting city is rich in cultural heritage, ancient architecture and antiquity. You will find alley-ways full of powerful aromas of the Moroccan spices, where ancient Berber tribes traded, slaves, ivory, gold and leather. Your local Marrakech guide will explore areas of interest and history with you during your guided city tour. The acclaimed "red walled" Berber Medina, a bustling scene of exciting activity, has an iconic history dating back to 1122 – 1123 A.D.
Evening open-air markets in the UNESCO world heritage Jemaa el Fena square, are an unforgettable draw card, where, can be found music, folklores, snack charmers, magicians, story tellers,  interesting performers and typical traditional Moroccan food to taste. The "nooks & crannies" of its history and the beauty of the snow-capped Atlas Mountains makes this city wonderfully attractive and the most visited city in Morocco. (Overnight in your Riad / Hotel in Marrakech).
* 10 Day Morocco Itinerary .
✪ Day 2 : Marrakech » High Atlas mountains » Ksar Ait Benhaddou » Ouarzazate » Rose valley » Dades valley :
After breakfast, you will be collected by your guide / driver from your accommodation, to embark on a sensational day of cultural and scenic exploration.
Travel will be through dramatic landscapes of The High Atlas Mountains, the highest mountain range in Africa, via entrancing  Berber villages, with their 2,000 B.C. history, and indigenous culture, then over the Tizi n Tichka Pass, altitude 2,260 M. Here there will be wonderful photo opportunities and you will be amazed at the breathtaking natural landscapes. Travelling down from the mountain range, through scenic mud villages, we stop to visit the amazing 7th century UNESCO world heritage site "Ksar Ait Benhaddou" listed in 1987.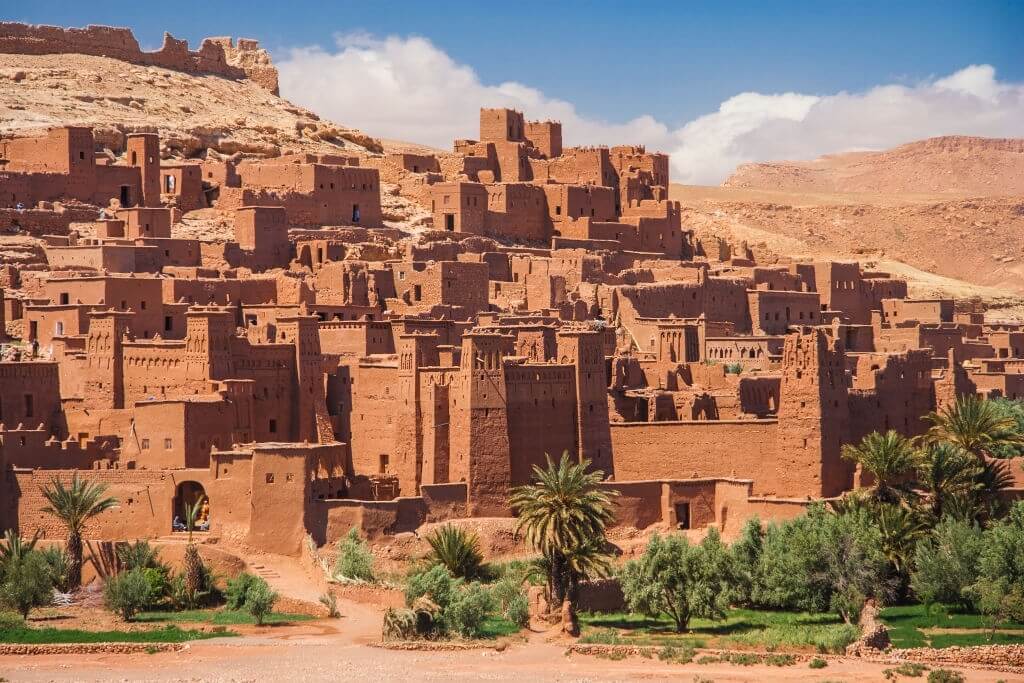 This Ksar or village is one of the most intriguing of the Red Earth Castles lining the ancient road of the camel caravans and it is the oldest mud village in the kingdom. It was once a commercial hub for trans Saharan caravan traders, undoubtedly the greatest icon on the "road of the thousand kasbahs". Built of Pise clay, its resplendent architecture has been the idyllic backdrop and spectacular set for many world famous movies such as Gladiator, Game of Thrones, Indiana Jones… to mention just a few.
Then we drive to the picturesque Ouarzazate city, widely acclaimed "Hollywood of Africa". This city is an international venue for documentaries and large scale movies. There may be an opportunity for photo stops and for visiting one of the many cinema studios. This city is also housing "Noor complex" which is the world's largest concentrated thermal solar power complex, costing 3.9 billion USD and partly funded by the World Bank.
After lunch, we continue through the "Road of the thousand Kasbahs" and earth castles to the Oasis of Skoura. This Oasis is UNESCO protected and is famous for its numerous Kasbahs and here we will stop to visit the iconic 17th century "Kasbah of Amridil", located in the Oasis and appears on the 50 dirhams note. This Kasbah was founded over 300 years ago and is largely unchanged today. It is one of the living museums of Morocco and is the ancestral home of the Nasiri family. The present generation of the family live on site, have a museum of ancient Moroccan artifacts as part of the Kasbah.
In ancient times camel caravans of gold, spice, slaves, salt and other cargo off loaded in Skoura after many weeks trekking across the desert from several sub Saharan countries e.g. Mali, Senegal, Ghana and Asia. Today, Skoura's historic mud brick castles remain and traders still arrive with desert products, especially trading salt. After visiting the Amridil Kasbah and along the road of 1,000 Kasbahs, we will pass through Kelaat Mgouna, known as The Rose Capital, famous for the Damaskina Roses, also known for the annual festival during the rose harvest in May each year, when Miss Rose of Morocco is chosen.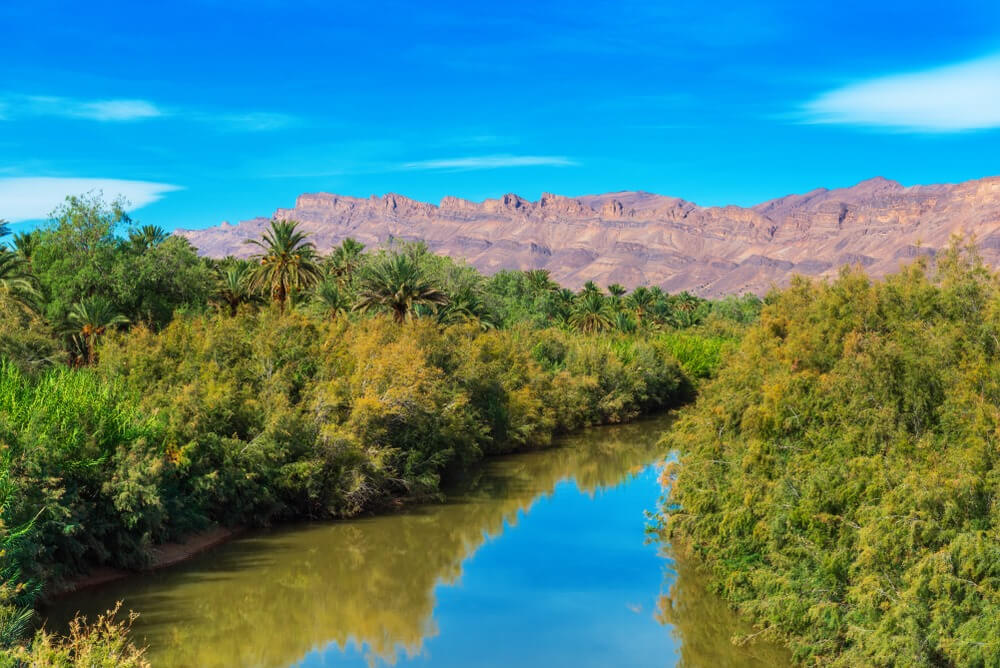 Continuing our journey towards one of the most beautiful valleys in the Kingdom and enjoy colourful Berber mud villages overlooking the amazing Dades Valley. We drive along the spectacular Dades Valley to discover the amazing rock formations, known as "monkey toes" or sometimes "monkey fingers". These extraordinary rock formations are metamorphic rock, which has been severely eroded by rain, water (which gives a chemical breakdown of the rock), wind and possibly sand storms over thousands of years.
The Dades Valley prides itself for the extensive production of roses, wall nuts, groves of palm and almond trees. It was the site of ancient nomad crossroads and the valley is dotted with Oases and mud brick palaces known as Kasbahs which gives the region its fairy tale nickname. There are opportunities for brilliant photos through this region. Then, arrival at your Riad / Hotel for a peaceful night. (Overnight in Dades Valley).
* 10 Day Morocco Itinerary .
✪ Day 3 : Dades valley » Todgha gorges » Sahara Desert :
After breakfast, we leave the spectacular Dades Valley, and move on towards Tinghir, where we will deviate to a minor road following the river of Todgha Gorge.
Contemplate the scenic panoramic views of the old Jewish and Berber mud villages, overlooking the valley. Some time at leisure, to enjoy the immensity of the huge red cliffs of 400 M, where many international rock climbers come to enjoy their preferred sport.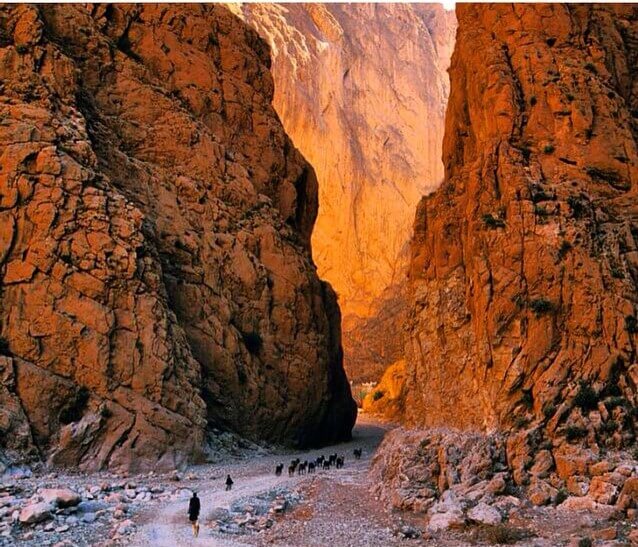 The Todgha Gorge is recognized worldwide for being one of the most spectacular rocky canyons. No wonder this place has been used for the filming of many movies as a magnificent natural setting, with one of the most famous movies being the "Mummy".
In this area of Todgha Gorge, lives a large community of Berber nomads. Here you may see Berber nomad women who have their faces tattooed. They may be seen herding their goats to drink water at the river's edge and collecting their own water which is carried by their mules back to the caves where they live.
After lunch, you will continue the trip to Erfoud, known as the capital for dates(fruit) and a global entity for fossil stones, famous for amazing fossil beds and Paleozoic Strata, where ancient 'Trilobite' fossils are found, 505 to 570 million years. An intriguing visit to a fossil museum is possible where you will witness some of the ancient specimens (Ask your guide). After, we continue to the eminent Sahara Desert town of Merzouga, which is a small Moroccan Berber town in the Edge of Sahara Desert and regarded as the gate way to the Grand African Sahara, which is a huge expanse of sand dunes.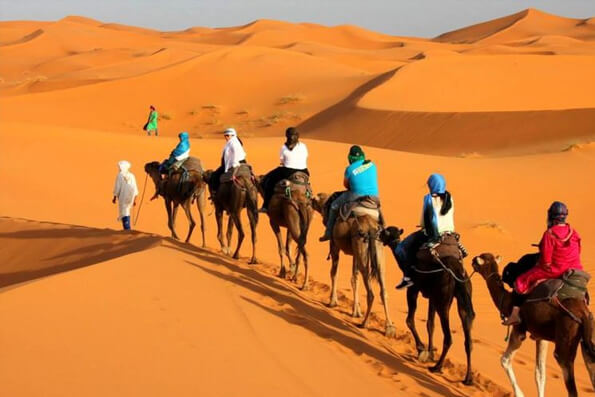 On approach you will observe a magnificent panoramic view of the golden dunes considered the highest sand dunes in north Africa at 350 M elevation. Then we continue to the camel station to meet your camels and the experienced camel man who will guide your camel trek to explore the mysterious Merzouga sand sea . You will enjoy the most charming sunset in the Merzouga Dunes. You will spend the night in a Berber desert camp, in the heart of the dunes.
The camp consists of several comfortable Berber tents equipped with mattresses and linen, a dining room, a kitchen and a bathroom. The evening will include dinner, followed by entertainment around the camp fire, listening to traditional Berber drum music, gazing at the night sky full of the milky way stars and having the experience of a life time, which will captivate your heart and soul, not for a night, but forever. (Overnight in Sahara desert camp).
(Sand boarding is available in the camp). 
* 10 Day Morocco Itinerary .
✪ Day 4 : Explore Sahara and environs » Khamlia » Ouzina » Ramlia » Tafraout ( Paris to Dakar rally race trails) :
Before sunrise, on waking, you may climb the sand dunes for a fantastic view of the amazing sunrise in the Sahara Desert, followed by a typical traditional Berber breakfast.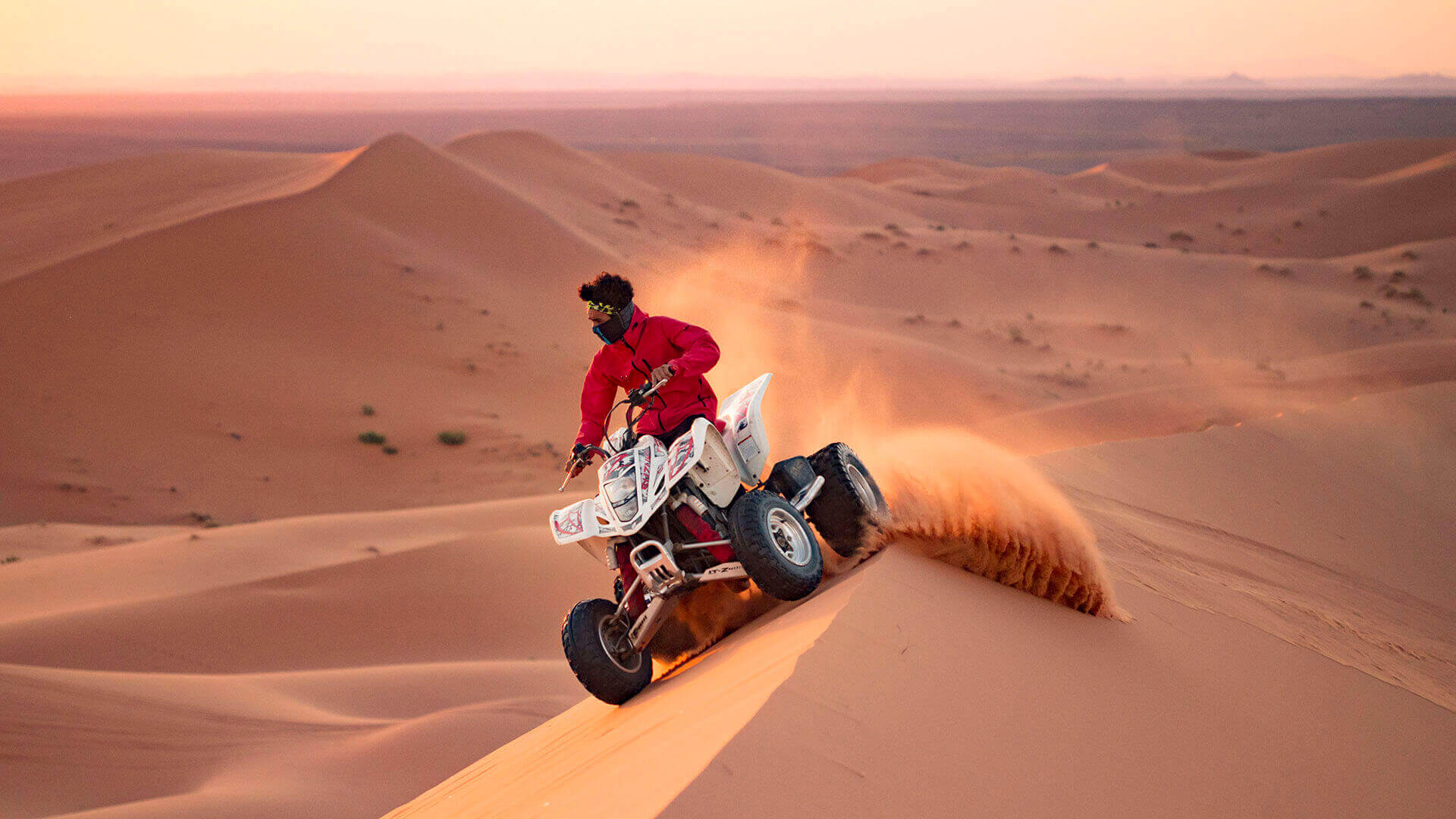 ★Begin your day with a 1 hour Quad excursion through the Sahara Desert. Enjoy the exhilaration of speeding through the sands and up the dunes, where you will stop to enjoy a peaceful moment with just sky and sand for as far as you can see. You will have a professional guide to ensure your safety!
★Explore the Berber farms and fields of Merzouga and marvel at the ingenious underground water and irrigation system, for family agriculture and for spectacular date palms.
★Visit "Dayet Srij" Salt Lake or "Flamingos Lake". During Spring the lake attracts many species of birds e.g. amazing colony of Greater Flamingos, desert Warbler, Egyptian Nightjar, Falcons, desert Sparrows and many more. Several species reside at the lake all year round. Other wild life to be spotted at the lake are lizards, hedgehogs and desert foxes.
★Visit the Black Village of "Khamlia", a little village with a big story. This village has a population of 390 of Black African families and Berber ethnic groups and it is located at the foothills of Merzouga dunes, doors to the great Sahara Desert.
For centuries black Africans from the Gnawa tribe, originating from sub-Saharan countries such as The Sudan, Mali and Niger, were forcibly moved from their homelands across the Sahara to Morocco as part of the worldwide slave trade. Shackled in chains as they crossed the desert, they sang to soothe their pain and found a mindfulness in the rhythmic chanting and clanking of the chains.
Today Khamlia's inhabitants are direct descendants of these slaves. We will visit one of the music associations, have a cup of tea and listen to the Gnawa inspirational African music which is legendary from their ancestors, preserved from their original homeland and still played in a traditional manner.
★Partake of a delectable lunch of Berber Pizza which is a food specialty of the desert town of Merzouga.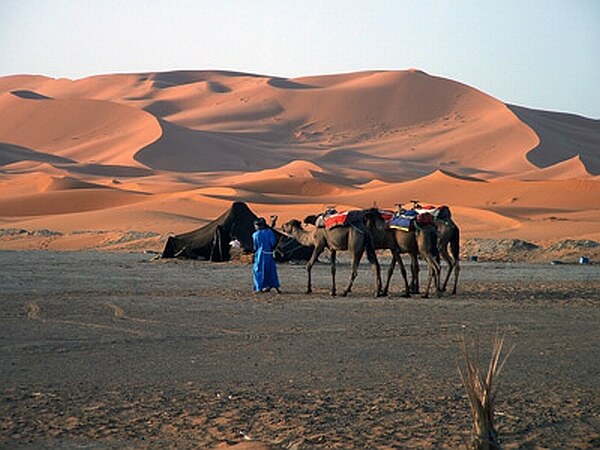 ★Visit a desert nomadic Berber family, share a cup of tea with them and be totally captivated by their life style, their traditional tents and the harsh desert environment in which they live.
Next we journey along the stony desert road, lined with magnificent Acacia trees. This will lead us towards the rough and famous Dakar rally trails, passing ancient nomadic camp ruins and through Saharan Berber villages. En route to your Riad / Hotel, there will be superb opportunity to witness the awe inspiring sun setting over the desert horizon. (Overnight in Tafraout).
* 10 Day Morocco Itinerary .
✪ Day 5 : Tafraout » Picnic in the desert » Tamegrout » Zagora :
We continue the 10 Day Morocco itinerary Dakar trails journey through the off-road desert trails where you will visit nomadic desert communities.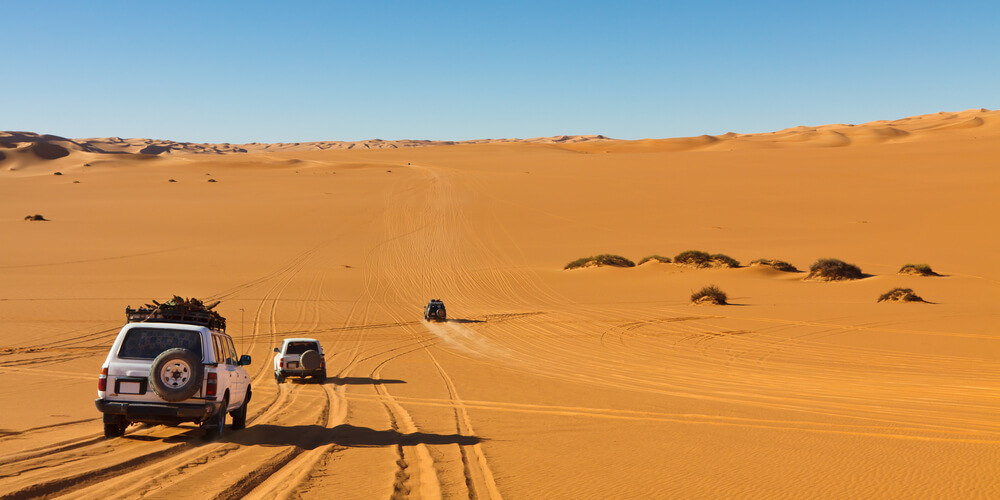 This section of the famous Dakar Rally desert route is a highlight, reputed to be the most challenging of all the countries, due to the unforgiving breathtaking landscapes, yet still adventurous terrains. There can be time spent visiting the oases communities and amble through the dunes.
Picnic lunch is planned, under the shade of the desert Acacia trees. There will be a visit to an ancient Ceramic factory, dated mid 17th century in Tamegrout Village to inspect Morocco's intriguing green pottery.
Later, there will be a visit to the 16th century "Zawia Naciria" library which was considered to be one of the literary richest libraries in North Africa with over 50,000 volumes collected from through out the World.
This library was founded by "Sidi Ahmad bin Nasir" who led an incredible life, making six pilgrimages to Mecca throughout his lifetime. It became year-long journeys through countries such as Ethiopia, Arabia, Egypt, Persia, and Iraq among many others.
Throughout his travels, Ahmad took the opportunity to establish new branches of his father's religious movement and to collect a variety of books that he carried back to Tamegroute. When he passed away, the already exquisite library became the 'richest' one of its kind in North Africa with a plethora of books covering such diverse topics as algebra, astrology, religion, poetry, medicine, and much more.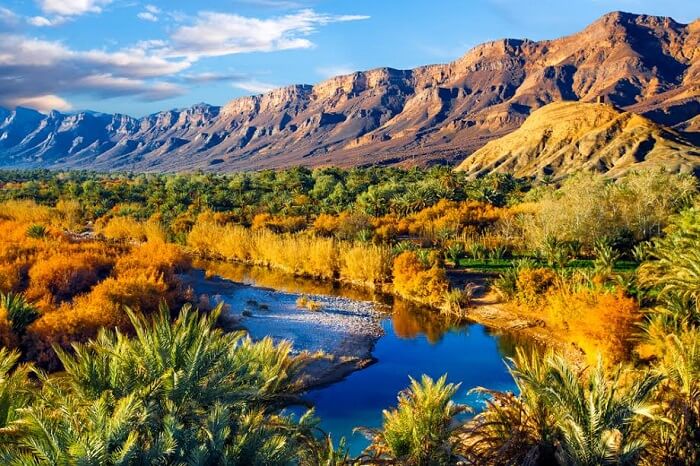 There will be a 40 minute stroll through the Oasis of the Draa Valley. You will explore the Berber farms and marvel at the ingenious underground water and irrigation system, for family agriculture and for spectacular date palms along the Draa river, Morocco's longest river. Here, you will witness Berber daily life and ancient mud castles known as Kasbahs and which once were inhabited by the camel caravan traders en route to and from Timbuktu, Mali, and Sahara trading salt, gold, slaves, dates, spices and ivory.
After dinner at a private medieval style Kasbah, you will experience Morocco's first private observatory on the edge of the desert, where sophisticated telescopes enable you to observe the Sahara milky way star constellation as you have never imagined. The in-house Belgian astronomer will enthusiastically explain mysteries of the universe, over the Sahara Desert. (Overnight in Zagora).
* 10 Day Morocco Itinerary .
✪ Day 6 : Zagora » Taznakht » Taliouine » Taroudant :
After breakfast we leave Zagora. This city for centuries, was an important stop-over along the desert route, known as the "salt-trail".
Camel caravan traders passed through Zagora and the Draa Valley when coming from the sub-Saharan regions Mali, Senegal, Sudan, Ghana… and headed to Marrakech, Fes, Tangier and sometimes onto Europe, through the unforgiving desert to and from Timbuktu in Mali, a 52 day journey from Zagora.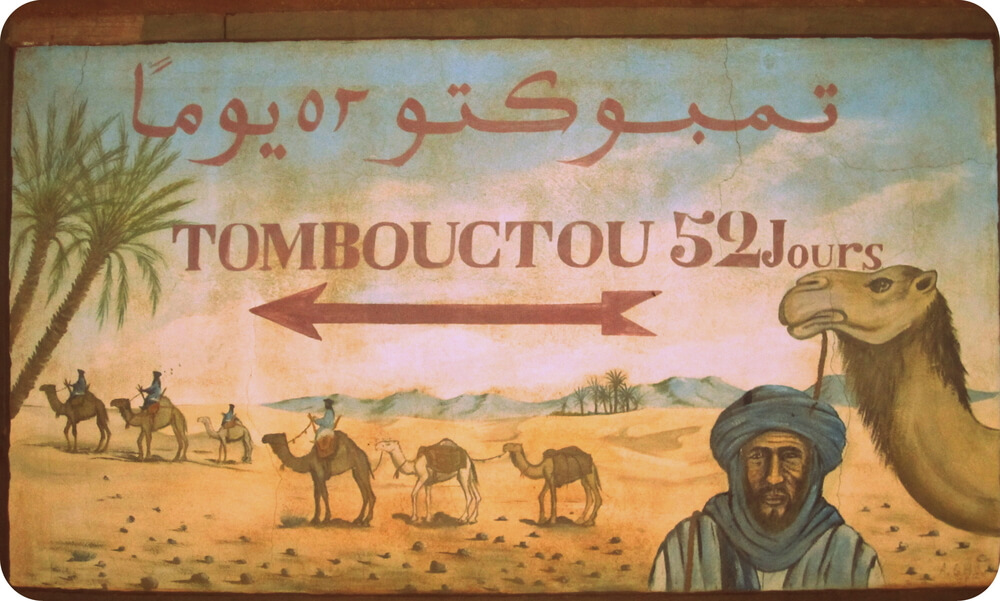 Much wealth was made in transportation and trading of dates, slaves, silver, gold, handicrafts and importantly salt. Several city street signs state the famed " Timbuktu Zagora 52 days ".
We journey to Taznakht, an esteemed city renowned for classic Moroccan Berber rugs and the beautiful Anti Atlas mountain range landscapes. The Berber women who weave these unique rugs use the language of simple forms to transmit ancient common truths of their history. Moroccan Taznakht rugs are considered to be the most desirable rugs in today's world of interior design.
They are hand woven from the finest wool in the tribal villages with detail and design telling of tribal culture in the rural regions. The Taznakht rugs are a perfect example of a unique Berber art. The details and design of the pure wool vintage Taznakht rug tell the story of tribal culture in the rural regions of the South Moroccan region.
Our journey continues through the Anti Atlas Mountains towards Taliouine, famous for its production of saffron and is a major exporter of this spice, being the top quality worldwide. The "Festival International de Saffron" is held each year in November.
This region is also renowned for the World famous Argan Oil production. The Argan tree grows only in Morocco and its oil is known as the Golden oil.  It is possible to glimpse the Argan tree-climbing goats in this area. We then reach Taroundant town, a medieval town located in the Sous Valley.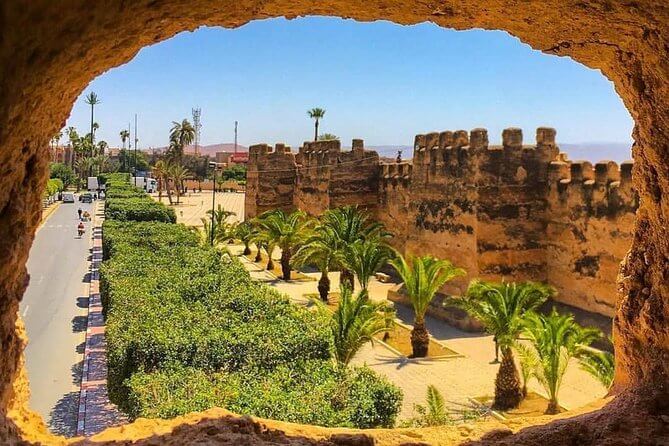 This town is known as "Grandmother of Marrakech" because it resembles a smaller Marrakech, complete with surrounding ramparts and the town walls are nearly 6 Km long. They are set with bastions, punctuated by nine gates which are still in use today. Unlike Marrakech almost the entire city of Taroudant is located inside the walls. It is known for local crafts such as jewellery and carpets.
Centuries ago, the town prospered, marketing goods such as sugar cane, cotton, rice and indigo. Today, the town is susceptible to invading desert sands. (Overnight in a typical Moroccan charming Riad in Taroudant).
* 10 Day Morocco Itinerary .
✪ Day 7 : Taroudant » Agadir » Essaouira via the Atlantic coast :
Today our journey is to Agadir, south Morocco's most visited coastal city, after a walk and traditional breakfast in Taroudant.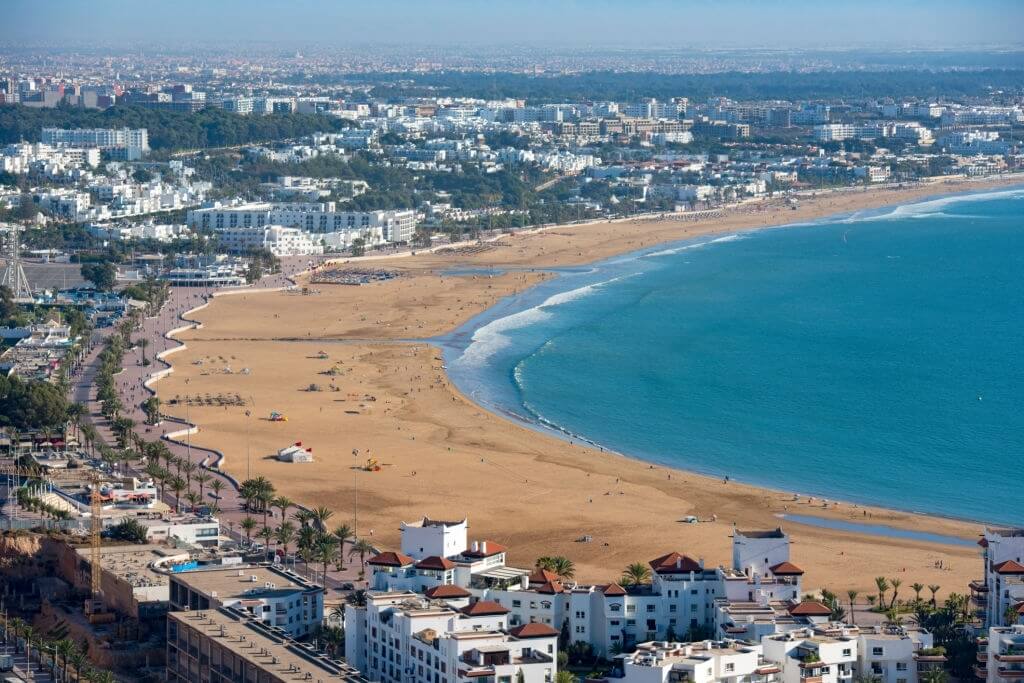 Agadir is known for its pristine beaches, the ancient Medina, the European lifestyle and importantly Agadir Oufella ruins. We will visit the fascinating "Crocoparc", home to generations of large Nile crocodiles in beautiful surroundings.
We move on to the ruins of "Kasbah Agadir Oufella", a citadel which dominates the Atlantic coast. Built in 1540 as protection from the Portuguese and destroyed in the 1960 earthquake. From this point, glorious sunsets are visible along with panoramic views of Agadir.
After a sea-side lunch and picturesque walk, we then move towards Essaouira, along the stunning Atlantic coast road. En route to Essaouira, there can be a stop at one of the women's cooperative for making the World famous Argan Oil known as the Golden oil and observe the oil production. It may be possible to view the Argan tree climbing goats in this area.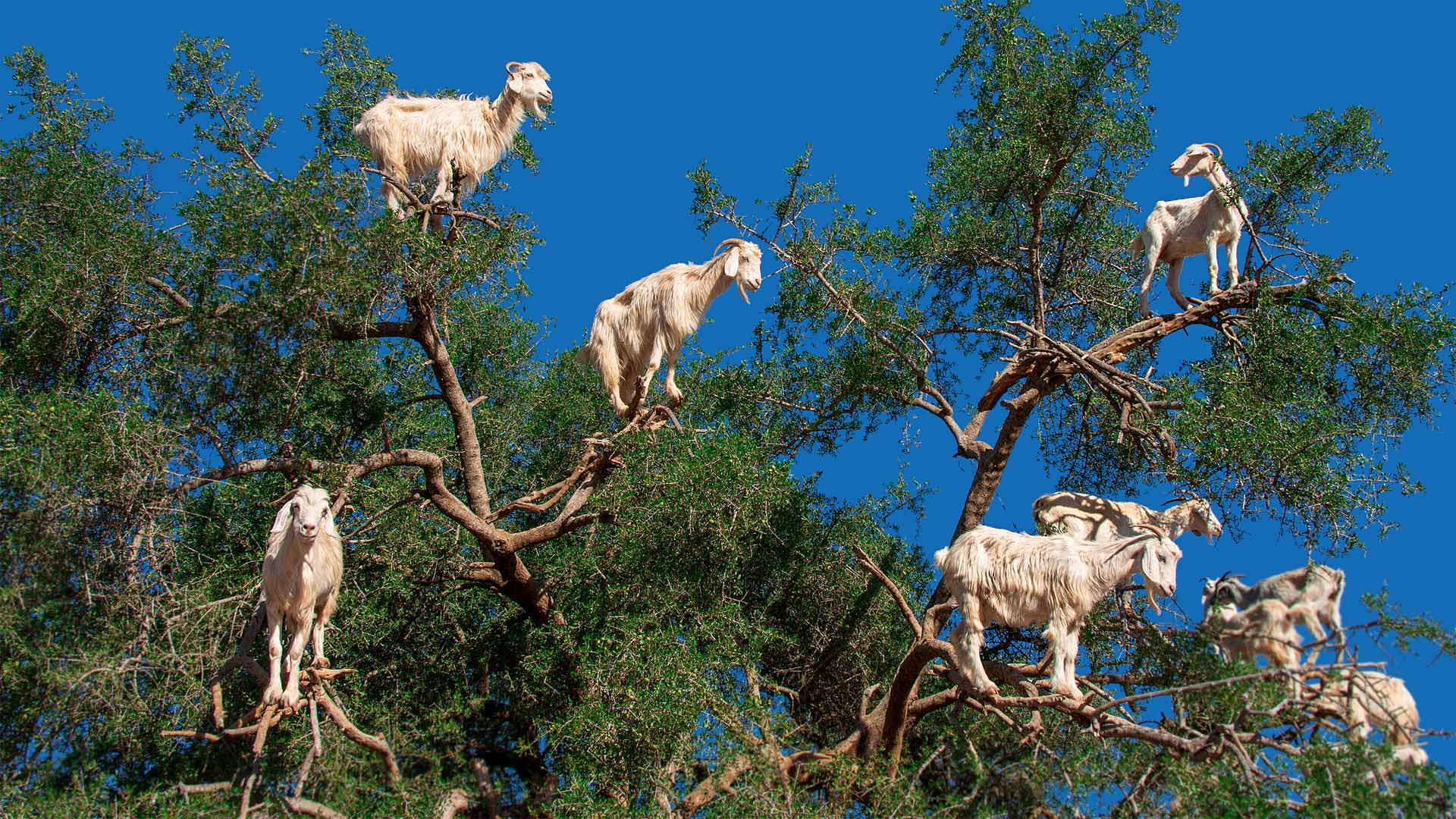 Essaouira, is a UNESCO heritage listed city, a testament to the Portuguese style of the 15th century and is located on the windy Atlantic coast, being a major fishing port. Architecturally, the city is known as the "fortress city" and also as the "Wind City of Africa", it attracts plenty of windsurfers between April and November. Essaouira is an enchanting city exhibiting a calm, peaceful and relaxed atmosphere, a vibrant culture and an ancient history of colonization.
On arrival in Essaouira, there will be an opportunity to witness the grandeur of a spectacular Atlantic sunset with a 1h ride (camel or horse) along the breathtaking Essaouira beach. Then to your Riad / Hotel. (Overnight in Essaouira).
* 10 Day Morocco Itinerary .
✪ Day 8 : Essaouira city tour » Marrakech :
Essaouira is an 18th century fortified walled city, full of history and heritage, being a major fishing port on the Atlantic coast of Morocco.
An instructive and enjoyable 4 hour city tour with a professional local guide will embrace, strolling through the remarkable Medina, the hub of the city's activity and a UNESCO heritage listed site.
Visit the bustling fishing port as the day's catch returns, an intrepid climb onto the ancient ramparts and the historic Medina will enlighten you to the wondrous history of this enchanting Moroccan city and provide amazing views of the city, port and ocean. In the Medina, also will be found many artist's studios displaying beautiful typical exotic Moroccan art works.
At lunch time, you can indulge in the delectable seafood cuisine and experience other gastronomic delights of Morocco, all unforgettable.
Finally a visit to a typical Moroccan herbalist for some welcome herb-blended Moroccan Royal Tea and where you may also purchase a variety of herbal remedies.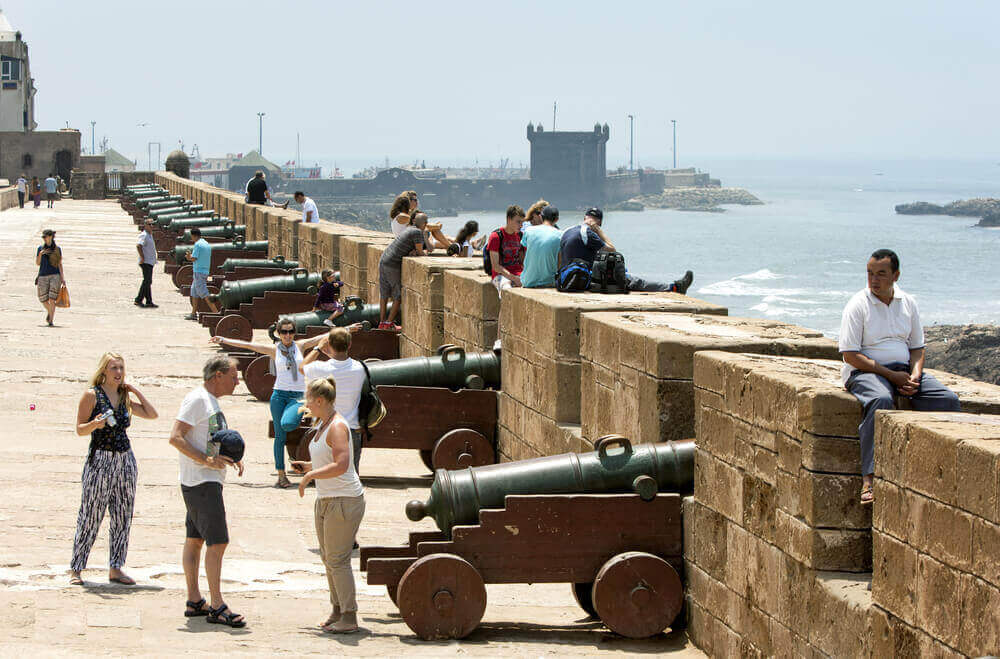 After the hectic and most interesting day by the coast, we venture towards the sensationally resplendent city of Marrakech. It is blessed with a cosmopolitan mix of culture, natural beauty and Morocco's antiquity, a spectacular city pulsating with colours of Moroccan life. (Overnight in Riad/Hotel in Marrakech).
* 10 Day Morocco Itinerary .
✪ Day 9 : Marrakech sightseeing guided day tour :
Today you will embark on a full-day city tour of exotic and vibrant Marrakech, exploring in depth, the rich cultural heritage and antiquity of this enchanting city. Your Grand Morocco expert local guide will lead you through the UNESCO World Heritage listed, ancient-walled Medina, which dates back to the ancient Berber inhabitants, dating back to more than 1700 B.C.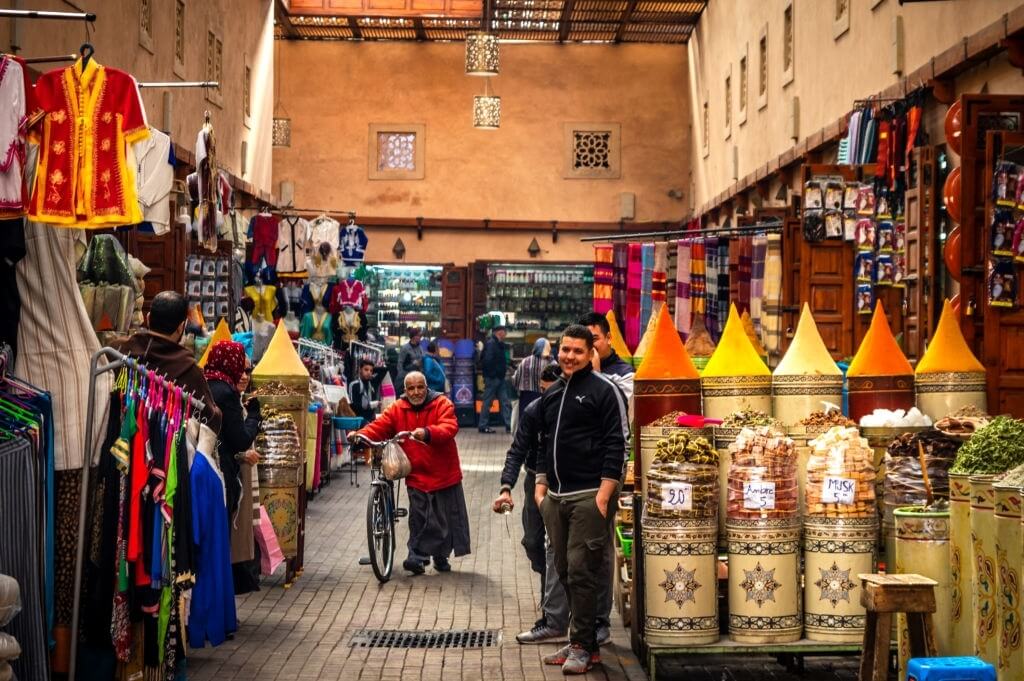 Visit Bahia Palace, a masterpiece of Moroccan and Andalusian architecture and a major monument of Morocco's heritage. This 19th century palace was built by "Ba ahmed", the grand vizier of Marrakech & named after his favorite wife "Bahia". Craftsmen worked on this palace for fourteen years. The tiles were imported from Tetouan, the marble from Meknes while the cedar wood used for the painted and shimmering ceilings came from the Atlas Mountains.
Stop at a Berber Apothecary shop, learning of the medicinal uses of many of the common spices and herbs that are still used across Morocco to treat common illnesses.
Visit Ben Youssef Madrasa , a 14th century school founded by the Moroccan Monarch "Abu el Hassan", another beautiful example of Moroccan and Andalusian architecture. The Saadians enlarged and redecorated the building in 1570 and it became the largest Islamic college in north Africa.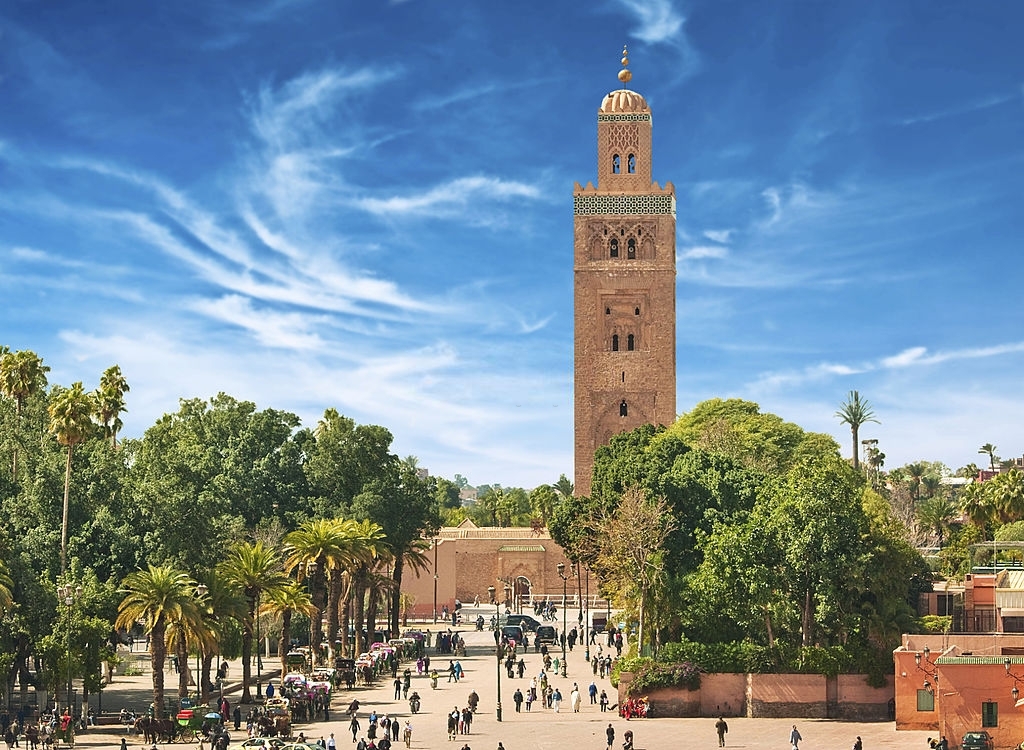 Observe the 12th century & largest mosque in Marrakech, "Koutoubia Mosque" and its 77 meter high minaret. It was completed during the reign of the Berber Almohad caliph Yaqub al-Mansour (1184-1199), and inspired other buildings such as the Giralda of Seville and the Hassan Tower of Rabat. Local laws restrict any new building projects from exceeding the height of the minaret, providing a focal point for all to enjoy.
Visit Saadien tombs , the only remains of the Saadian Dynasty which ruled Marrakech in 1524 to 1659.
Explore the UNESCO site of Djemaa el Fna Plaza which is the heart of Marrakech, where can be found traditional activities such as magicians, story tellers, musicians, snake charmers and Marrakech's legendary Souks. When it was created in 1050 it was used for public execution. (Overnight in Riad / Hotel in Marrakech).
* 10 Day Morocco Itinerary .
✪ Day 10 : Airport transfer :
After breakfast, we will collect you from your Riad or Hotel and transfer you to the airport, either Marrakech or Casablanca, for your on-ward flight. Now ends your 10 Day Morocco Itinerary of the wonderful Kingdom of Morocco.
* 10 Day Morocco itinerary .
WHAT IS INCLUDED :
Travel in an air-conditioned 4WD or Minivan, with a professional, licenced English speaking guide / driver.

Airport Pick up / drop off transfer.

10 days / 9 nights accommodation with breakfast in beautiful 3, 4 or 5 star Riads/Hotels as you request.
All accommodation with Breakfast while on tour + 3 lunches, 4 dinners.

Camel ride,

Sandboarding & Q

uad bikes

 in the Sahara desert.

Turbant (head wear) each for the camel trip in the desert.

A picnic lunch in the desert (day 5

).

WiFi Hotspot + 2 bottles of water each per day.
Official local city tour guides in Marrakech & Essaouira.
Overnight stay in a Desert luxury camp and camel trek.
A visit to a local nomad family in Sahara.
Camel or horse ride in Essaouira beach.
Entrance to all included sites and monuments during this 10 Day Morocco Itinerary .
All taxes and fees.
WHAT IS NOT INCLUDED :
Travel insurance.

Flight ticket.

Meals not noted as included in this 10 Day Morocco Itinerary .

Snacks, drinks and incidentals.

Hotel services, such as room service or laundry service.

Tips and gratuities.

Personal expenses.
EXTRA ACTIVITIES :
Hot air ballooning.
Drums and Berber guitar workshop.
Yoga in the desert.
Belly-dancing.
In addition to many other possible activities of your choosing.
* 10 Day Morocco Itinerary .
This * 10 Day Morocco itinerary is customised by Grand Morocco LLC.  "If our set itineraries do not match what you are looking for, please contact us and we will tailor-make an itinerary to suite your requirements".

BOOK THIS TOUR
10 Day Morocco itinerary Dakar trails
* 10 Day Morocco Itinerary Dakar trails
VISIT US :
100 Avenue des Far, Sofitel, Casablanca 20000, Morocco.
10 Day Morocco itinerary , 10 Day Morocco itinerary , 10 Day Morocco itinerary , 10 Day Morocco itinerary , 10 Day Morocco itinerary , 10 Day Morocco itinerary , 10 Day Morocco itinerary , 10 Day Morocco itinerary , 10 Day Morocco itinerary , 10 Day Morocco itinerary